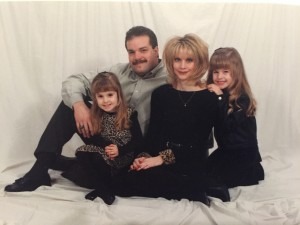 I have always been taught to be thankful for my family, my friends, and what I have. However, the past month has shown me that you can never be thankful enough. I've been reflecting on the memories I have, and these moments show me that I have always appreciated the close family I was blessed with. I don't think words will ever express how thankful I was, but I still wish that I had told my father every single day how much I loved him or how much I appreciated him. He knew how much he meant to me, but I still wish I had thanked him for things such as: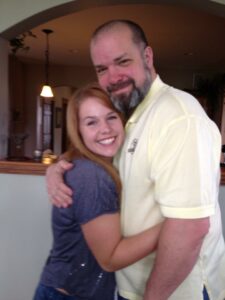 His Hugs
Always appreciate when your Dad hugs you, even if you're annoyed because it's when he just got done poking fun at you. My dad was a big teddy bear. He was a defensive tackle on the Ball State football team. His size was intimidating to pretty much anyone other than my family because once you got to know him, one would realize that he was nothing but a big teddy bear.  When I looked at my father I saw a man that always had a huge hug waiting for me. I could barely get my arms around him, and I'm always going to want one more of those bear hugs.
His Help with Car Trouble
Let's be honest, your dad knows more about your car than you do. Thank him for that knowledge. My dad would always come to the rescue for car troubles and questions. Even if it was "Dad, what's this exclamation point light that's on in my car?" or "Dad, it's making a 'chhhhhhhhhhkkkk' noise. Do you know what I mean?" My parents once drove 2 hours to get me because I called my dad crying that my brakes were being weird, and I was scared to drive home. He would always fix it. I don't know how, but he did.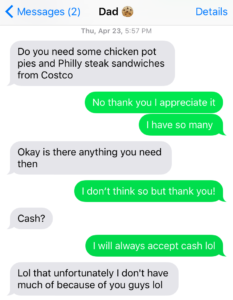 Endless "I O U"s
Dads make sure you're fully, if not overly stocked on everything you could possibly need. My dad never questioned when I needed to go to Costco to get groceries, hot sauce, or toilet paper.  He would never question filling up my gas tank when I came home to visit. When he came to Ball State, he would always feed me and take me to Walmart to make sure I was taken care of. And I would always say, "Thank you, daddy. I'll pay you back someday." And he would just smile and chuckle. I always meant that, but I knew that he was just helping me because he loved me.
The Date that Wouldn't EVER Cancel
Every year for Valentine's Day, my dad sent me a bouquet. Every year. No matter your relationship status, dads are always your first and best date (sorry, Nathan). You can always count on Dads to take you to the movies and even buy you popcorn. On any regular day, he would always compliment my appearance even with bed head or a huge zit on my face. I could always count on a compliment from my dad, even if he couldn't tell when I got my hair done.
Our Traditions
Christmas and Thanksgiving were some of my Dad's favorite dates. Not only for the food, but for the family time. He started a tradition where every Thanksgiving before we were allowed to eat, we went around the table and listed everything we were thankful for. It was one of our favorite things to do. Be thankful for the family time and traditions you have with your family because those will be memories that you cherish.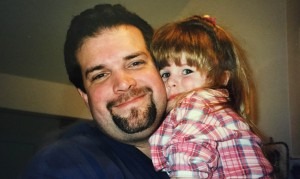 His Grill Master Dinners
I know everyone says that their dad is the grill master… but really. My dad was the best grill master. He sure could flavor a steak, and you were never hungry after you had one of his handmade gorilla burgers. The next time your dad wants to cook for you, let him. Because I don't think I will ever find a steak as good as the one my dad could grill. And yes, I have already been to St. Elmo Steak House.
His Stories of the Glory Days
Listen to the stories that your dad tells you. My dad was also a Ball State Cardinal, and whenever we were driving on campus he would always throw in a story that started with "You know when I was in college…" I would always roll my eyes and respond with "Mhmm, yeah, yeah, yeah, dad. You were the man, I know." But gosh, what I would give to hear one more of his stories. There were so many I know I never heard, and now I never will.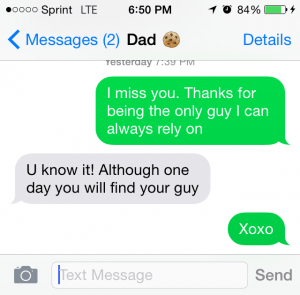 His ability to make me feel Safe
My dad was always the first person I would call for advice when it came to technology, food choices, and bills. Mom was in charge of school work, household chores, and hair care products. I even talked to my dad about how the mind of a college male works… that conversation was always finished with a simple "boys lie". No matter what it was, he always gave me good advice and knew what to say. He intimidated boys, killed spiders, and checked my closet for monsters.  He protected me from angry neighbors (whose houses I may or may not have TPed…) and debated with the Sprint customer service when I needed an upgrade. He was Superman, and I will always be thankful for that.
His Jokes
My dad was a prankster. He loved using Halloween to buy all of the latest gadgets that would scare the crap out of you, but make him almost pee his pants. He would spend so much time plotting his next laugh. And most of his jokes were just… pretty corny. Most involved making fun of me. But I loved to throw the jokes right back at him. I loved to rub his belly and tell people "his Buddha belly grants wishes." Be thankful for the bad jokes your dad tells, because dad humor is pretty awesome.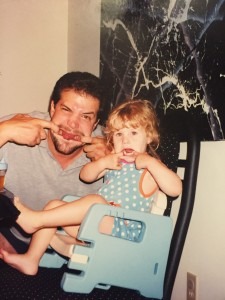 His Constant Love and Encouragement 
I'm not saying that my dad thought I was perfect. He would always be the first one to call me out on my stubbornness (most of which I got from him). But that doesn't mean that he didn't always love me unconditionally. Both of my parents have always loved me and encouraged me to be myself, and follow my dreams. My dad loved me for the nerdy girl that I was. He claimed I was the son he never had because of my love for Harry Potter, video games, and Lord of the Rings. From day one, all dads teach you to be strong, brave, and not care what anyone thinks. They teach you that if you are happy with yourself and being the best you can be, that is all that matters. 
Don't be the phrase "you don't know what you have until it's gone". Tell your parents every day that you love them, you appreciate them, and invite them to go to the movies the next time you see them (hopefully they'll buy the tickets). Thank them for the constant supply of toilet paper for your apartment, and make sure the last thing you say to them is "I love you". Parents are a special type of superhero, and they are something to be thankful for.