The assignment
The assignment was simple: create a cover photo that will broadcast to new talent that redpepper is hiring their next group of interns! Sure, super simple.
Well let's throw in the fact that it needs to be witty, creative, and showcase the awesome space that the interns would have the chance to work in. We wanted it to be different than competitors' hiring pages and previous intern photos. Maybe not so simple now, right?
As the Art Director of the project, I was in charge of leading the brainstorms and making sure that the photo would be on strategy with what we were trying to convey.
The Brainstorm
Believe it or not, but when you put 12 interns (all of us are very strong personality types) in a room and tell them to brainstorm, it's complete chaos. We were all bursting with the desire to make this intern photo the best so far. After a couple minutes of a loud stream of voices speaking at once, we simmered down and came to one agreement: we needed to show that as a redpepper intern, you're encouraged to be your uniquely creative self within an innovative and passionate environment that fosters your growth and champions your voice.
We decided to then adjourn and come back together with different ideas that showcased this positioning.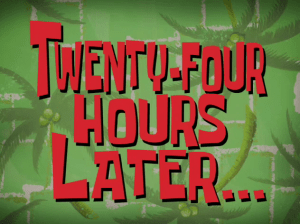 The next day we were all surprised to find that we all had numerous ideas. This gave us the opportunity to work with a great batch of directions, and we were very confident that our top 3 would blow the socks off of the site.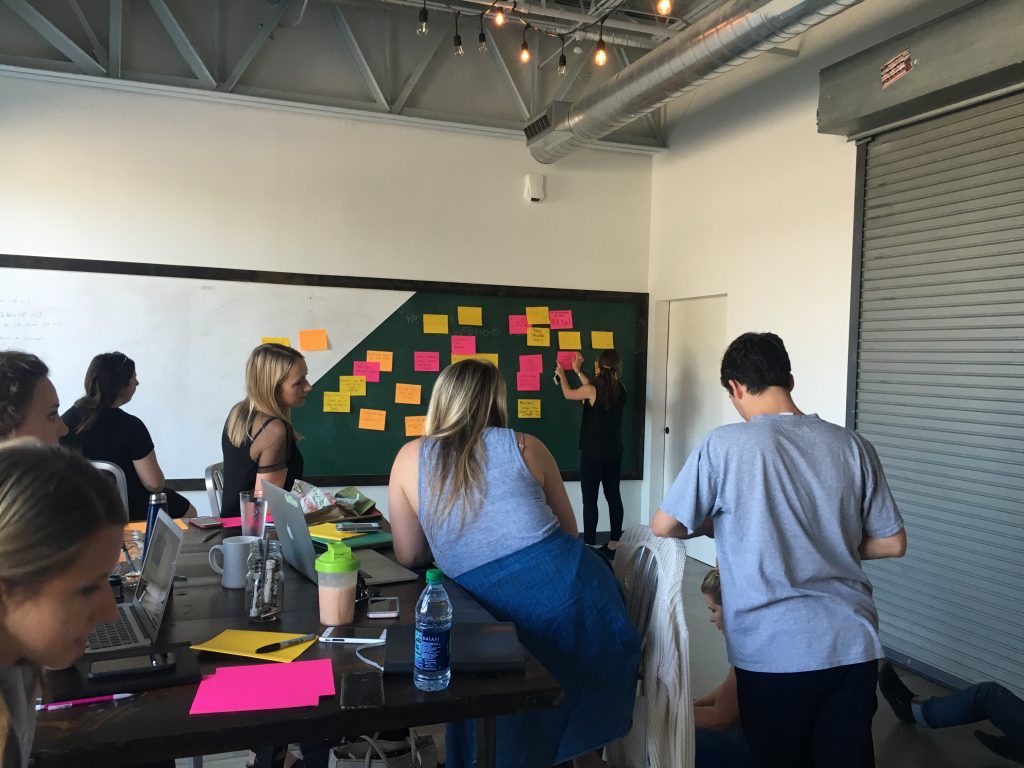 Some of our top concept ideas included: Interns laying in the grass and growing (like flowers) in spring, a line of hires not dressed as professionals but as their uniquely creative selves, and a table of people eating and being hungry for talent.
The twist
Every intern photo before ours was a picture. That's one thing that has remained the same. However, like one of our five values, if you aren't changing, you're dying. Our intern class wanted to create something that was innovative, stood out, and kept up with the trends of 2016. We decided to pitch the idea of our photo being a small video, similar to a GIF or Boomerang. (super trendy, right?)
The Chosen Concept
Hungry For Talent:
At redpepper, we constantly appreciate and celebrate unique talent. With our internship program, we are able to find the best in the business, and we're always hungry for the next great mind.
Our concept vision
e wanted to showcase that redpepper employees are always improving, and the company is always looking for individuals who are constantly learning everything that they can. We also wanted to show how innovative redpepper is, so we wanted to play on the concept of the food being gadgets instead of real food. (Hungry for talent. Food = Gadgets. Get it?) We then dove into creating a mood board that helped our client (redpepper) better understand our vision. We merged that mood board with a sketch of how we were imagining it being shot.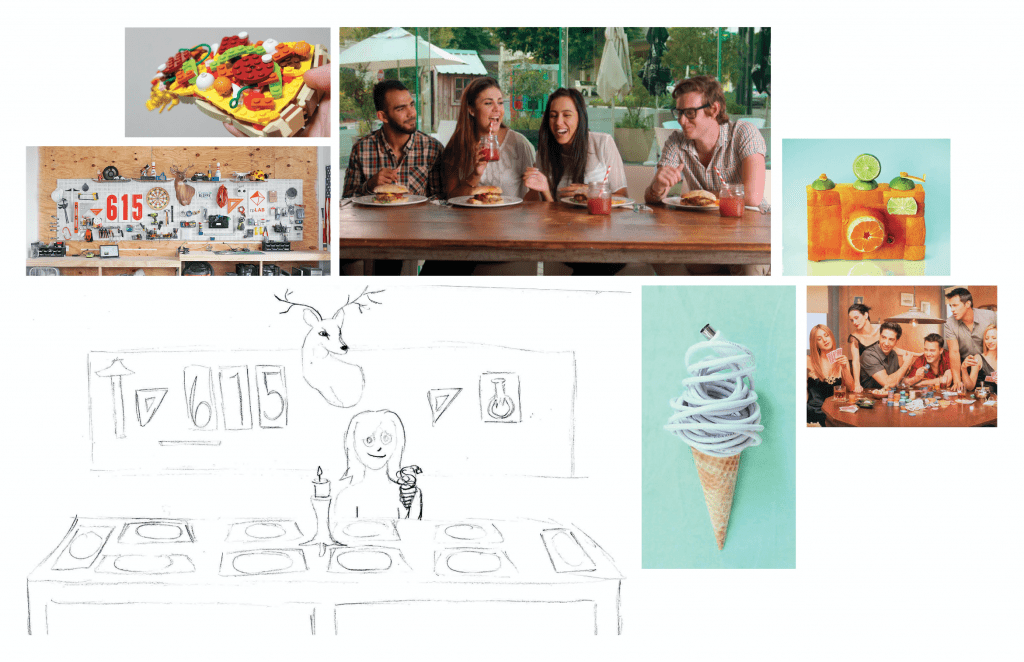 Execution
For our image to work, we needed a list of materials:
Spaghetti (made out of headphones)
Ice cream (made out of a MacBook charger)
A Camera (yummy.)
A Pizza (made out of post-it notes)
A Popsicle (made out of a pink iphone)
Five hungry interns
After setting everything up, we made sure that everyone knew what their specific motion was. We then got to shooting! We had a lot of fun trying to get everyone's motion perfect and completely intentional. We also didn't want to draw away from the fact that the food was gadgets. There was a lot of laughter, bonding, and hope that the food would somehow turn into reality (we shot around lunchtime on empty stomachs—a rookie mistake).
After countless shots, editing, and narrowing down our top five to one, here is the final product — makes you hungry for some post-it note pizza, right?
What we learned
Think everything through
If we didn't sit down and plan every single detail of the shoot and what we would need, it would have never gone as smoothly as it did. Before we walked into the room to shoot the photos, we already knew how we were going to make the food, what our "models" were going to wear, and who was in charge of what. Planning. Is. Everything.
Explain the reasoning for everything
When we presented our ideas to redpepper, we made sure to walk them through the rationale and brainstorming process of how we got to our 3 best ideas. Not only does this help your client understand what you're pitching to them, but it also shows them that time and effort went into creating these ideas and there was a reason for everything you did.
Messaging is everything
Make sure you have a clear understanding of your brand and the message you are trying to convey. That understanding will guide you through the decisions you will have to make during a project. We definitely hit some road bumps along the way and used our messaging goals to move past them.
Don't take opportunities like this for granted
All of us are so incredibly grateful that we were given so much creative freedom on this project. It allowed us to come up with something completely original and exciting. Be grateful of times that you're able to stretch your creative legs and show a client what you really can do!
Do you want a chance to have the kind of opportunities that the Fall 2016 Intern class has had? redpepper is now hiring for Spring 2017! Apply here.