Cover photo: @sweetellieblue
Every person who steps into my studio has their reasons. For some people, it's for their birthday, a bridal present, or to celebrate an anniversary or to document a special time in their lives. For others, it might be to commemorate the end of a cancer battle, meeting a weight loss goal, reaching a monumental moment in their self-love journey. Whatever the reason, I am always honored each time someone trusts me to document that journey.
If you're reading this right now, I assume it's because you're one of the people that are on the fence and haven't reached out yet. Maybe I've taken pictures of one of your friends, you're in my VIP Facebook group, or you came across my blog post while researching. Whatever it is, I welcome you and recognize you are having some doubts. The idea of stripping down to your undies and posing for a photographer may be intimidating, and understandably so!
But with the right photographer and a little preparation, I know it's possible for you to have an empowering and downright fantastic experience. So yes, you should book that photoshoot. In fact, you're bound to leave my studio with more rewards for having taken the risk. Still not sure? Here are seven reasons why you should bite the bullet and book that session:
Now is the time.
I cannot stress this enough, and this is honestly my main point. The time is now. Not next year, not 20 pounds thinner or 10 years younger or three kids less stressed out. Now. Every single body is different. Every freckle, tattoo, scar, stretch mark, and hair on your body tells your story. Boudoir celebrates that. Your story deserves to be told because you are perfect now.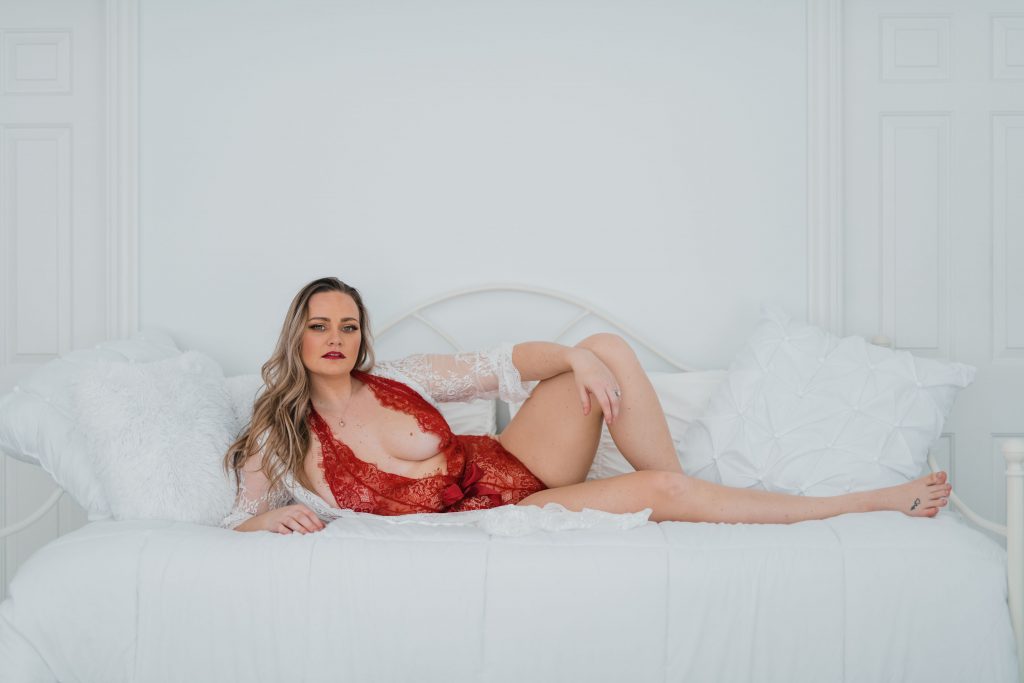 It's a great excuse to be pampered!
The older you get, the more you realize that we rarely have reasons to get dolled up. When's the last time you sat down, drank champagne and had your hair and makeup done for you? Or maybe you're like me and you rarely get a reason to spend time doing your hair and makeup. And do I even have to say that it's a great excuse to buy new lingerie? (You can view some of my favorite pieces here.) Give yourself that reason – you DESERVE IT.
It's all about YOU and what you feel sexy in.
A boudoir shoot is a great way to celebrate yourself, to create some amazing photographs that reflect just how incredible you are. You pick the clothes, lingerie, style, and makeup. It can be just the thing to remind you: you are beautiful just as you are. Your insecurities all fade away when you see how fabulous you really look and how unnoticeable that "imperfection" really is. just wait until you get to see the photographs for the first time. You will be blown away. You will see how gorgeous you really are and it will definitely put a little pep in your step!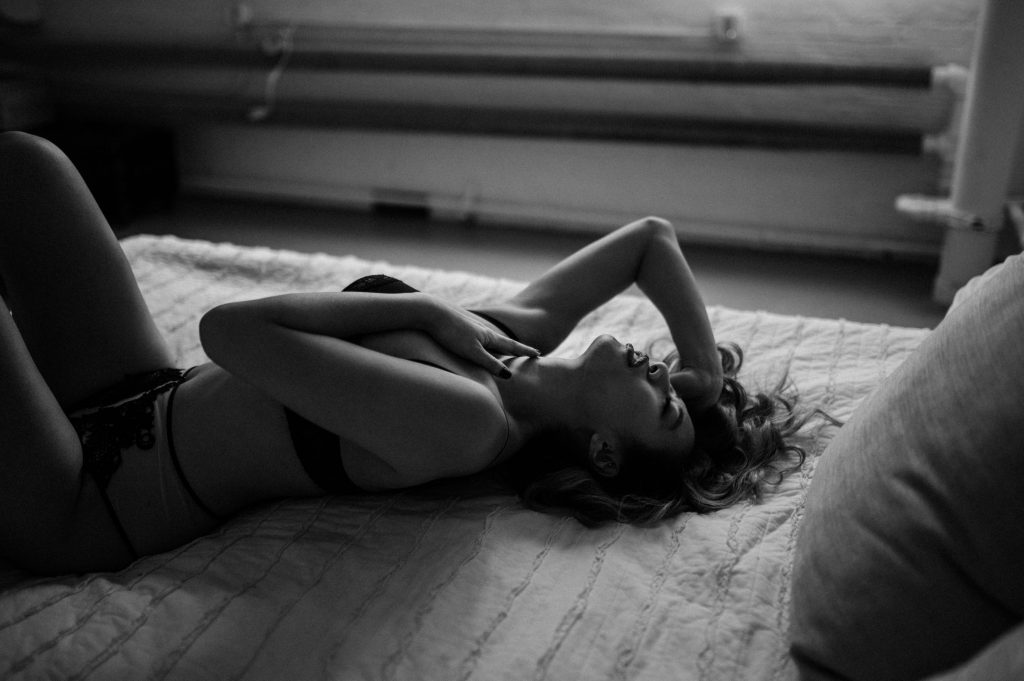 It makes a great gift, and not just for others.
Imagine the look on your partner's face when they open the album filled with these images of you. You will have to pick their jaw up off the floor! I always love touching base on this, but there's always one person who's going to enjoy this gift more than your partner… it's YOU! Yes, it's fun to see their reaction, but more importantly, it serves as a constant reminder of just how beautiful you are. My favorite thing to hear clients say when I show them their pictures is: "Is that really me?" I have clients order wall art that's for their bathroom or closet so they can see it every day and remember that feeling. So, boudoir may seem like the perfect gift for your partner, but it's the perfect gift for YOU!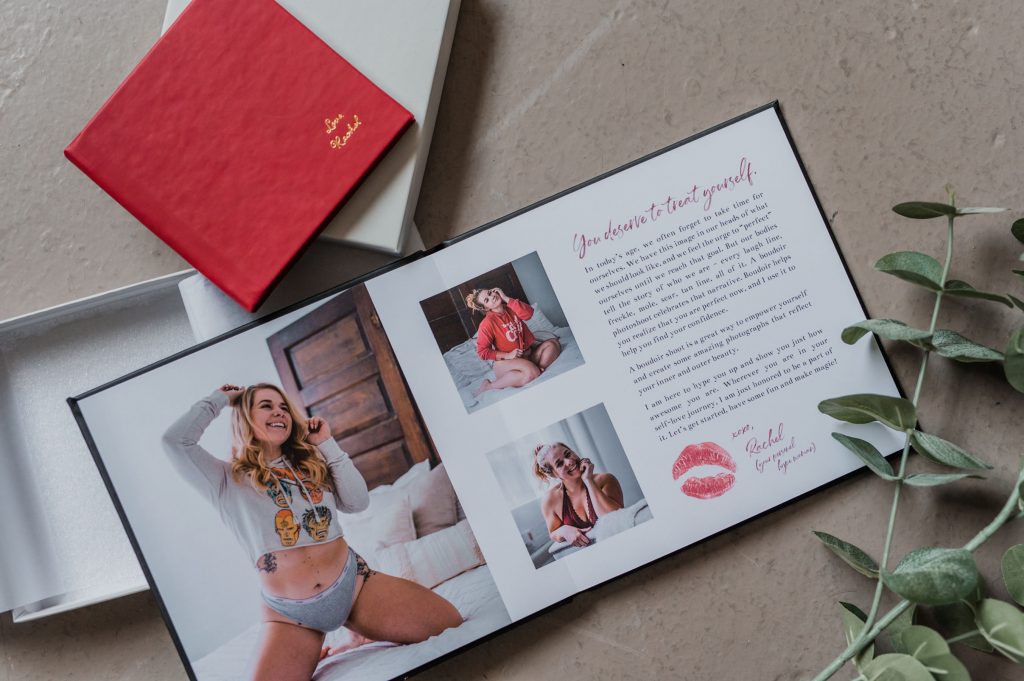 You'll get to see yourself from someone else's perspective.
Sometimes, we get so caught up in Snapchat filters, iPhone selfie cameras, and our minds about what we look like that it's a complete shock to see what other people see. A boudoir shoot not only shows you the beauty that other people see, but my professional posing is also specifically designed to enhance all of your best features!
It's empowering and SO MUCH FUN!
The right photographer (cough cough, hopefully me) will make sure you feel comfortable throughout the shoot and will keep the mood light, and be your professional hype woman. To boost the fun factor even further, make a day out of it. Invite a couple of your best gal pals along to sip some bubbly on set and cheer you on. You can even include them in your lingerie shopping to get their honest opinions on any purchases.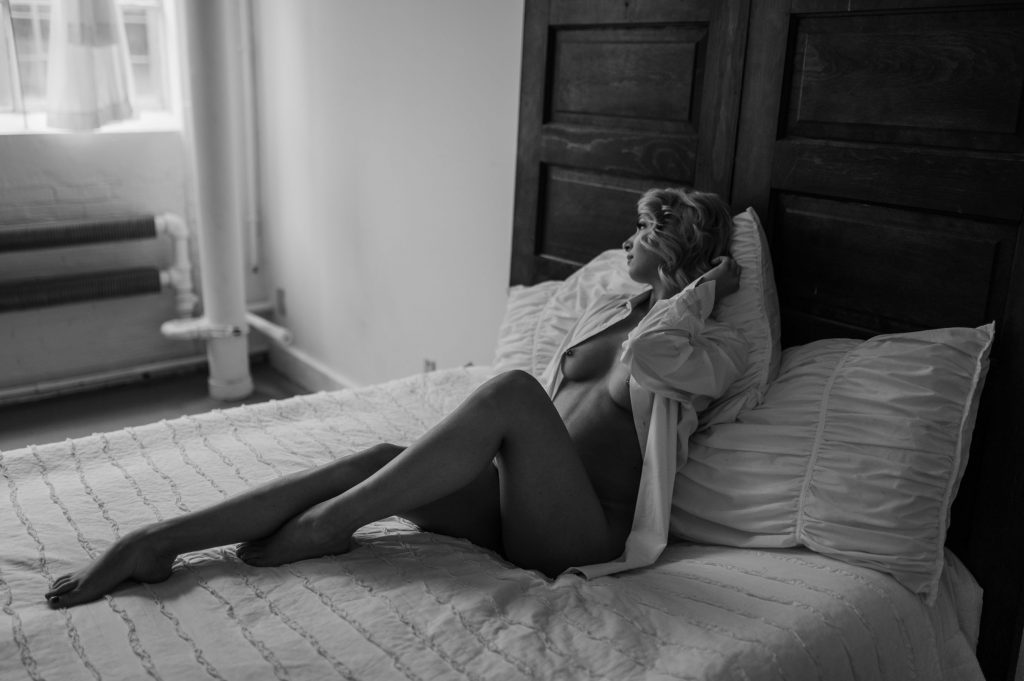 You walk away with confidence.
Every single person I've photographed has walked away from the session with a new confidence to themselves. Now that you've felt that, it's easy to feel it again when you look through your album, see yourself in print form hanging on your closet wall… confidence comes from pushing yourself to the edge of your comfort zone and showing your inner and outer rockstar!
Seen enough? Ready to book your session? I sure hope so, because I think everyone deserves to feel amazing about themselves. Still curious why I think boudoir is one of the best things you can do for yourself? Feel free to view my boudoir page or email me at rachel@rachelgiesecreative@gmail.com, and I'll ease your worries and get you on the books!